Krav Maga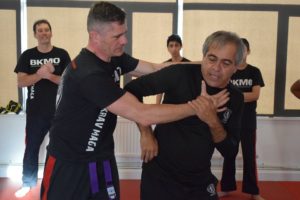 Krav-Maga was created and developed by Imi Sde-or (Lichtenfeld), Israeli Grand-master (1910-1998) who started KM in the late 1940's whilst serving as Chief Instructor for hand to hand combat and combat fitness training for the Israeli Defence Forces.
Imi, as a young man growing up in Bratislava, Slovakia, was a champion boxer, a top-level wrestler, and an expert in judo/jujitsu.
Imi's father was a police officer in-charge of the detectives in Bratislava who taught his detectives (and Imi) police defensive tactics.Imi took part in numerous street fights defending the Jewish quarter against local fascists and Nazis before and during the first phase of World War II. After two years of travel, Imi immigrated to Palestine (1942), which became Israel in 1948.
Due to the political situation, Israel was immediately at war with its neighbours and did not have the luxury of a six-month boot camp for its young soldiers, who were literally conscripted and sent to fight.Due to this, the Israeli military needed an effective hand to hand combat system that could be learned very quickly, was easy to retain and was very effective.
Beginning with Israeli special forces units like the Haganah, Palmack, and Palyam Krav Maga became the official fighting system for all military personnel, Israeli police and security forces. Since then it has been studied, tested, improved and developed extensively.
Krav Maga is now the choice of millions of adults who wish to learn to protect themselves and there family. The systems main benefit is the fact it does not need a life time of training to master.