Krav Maga  Manchester Self Defence Classes
Krav Maga Manchester Self Defence Classes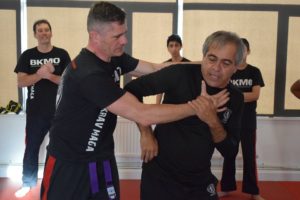 Black Belt Instructors
Our Krav Maga Manchester Self Defence instructors are probably the most decorated and experienced martial artists in the city.
Venue is:-
Abraham Moss Leisure Centre
Crescent Rd
Manchester
M8 5UF
0161 434 9045
Mondays 8pm
The class is a great starter class in a non-threatening environment with a fantastic instructors:-
Andy Ellison
Andy is Ex-Military, an Active Fireman IKA Kapap instructor Certified, BKMO Instructor level 2 and Martial Arts enthusiast
What to Expect From your
First Lesson
What Should I Wear?
Please wear something loose and comfortable for your first class i.e., Tracksuit bottoms and t-shirt.
When you arrive you will be greeted by a member of the team who will take you for a tour around our facility. We will go through a needs analysis of what you would like to achieve and explain how we can both work towards your goals.
Listen To What others Have To
Say About Our Program

Your first class will be tailored to you. If you require a slow start program we will provide you with one. If you require a faster pace program we will provide you with that too. We have a refreshment counter in case you need a drink before, during or after training.
Our krav maga is based on gross motor skills – Actions that come natural to you. We assure you that you will fly though your first class. At the end of the class we will suggest the best program for you and you can decide how you wish to continue.
So Lets Get started Our Krav Maga Manchester Self Defence Classes. Fill in you details below and we will call you back.